Here I am again, my fourth year of Fuerteventura. After having skipped last years trip due to the Sumatra visit, I have re-organised my travel budgets a bit. One just does need it all: a girly week with mum in the sunshine during winter, and getting grounded in Tangkahan a bit later in the year.
Well, last year skipping made sense as mum accompanied me to Sumatra, thus girly and grounding came in one package. This year I am back to
Robinson Club Esquinzo Playa
(German site) and feeling the urge to give an update. Not that a lot has changed; my accounts from
2008
and
2009
are still valid. I guess it's my viewpoint that took a bit of a turn.
Back then I already was quite the Internet girl. I paid some 14 Euros for a week and proudly connected to the world using my blue little Samsung netbook. Then I had to learn that the hotspot situation was a bit thin, rooms didn't have connection and only on the terrace one could dive into the depth of wisdom and gossip. Pride about my capabilities of handling the equipment however, superseded the disappointment and I was a happy bunny.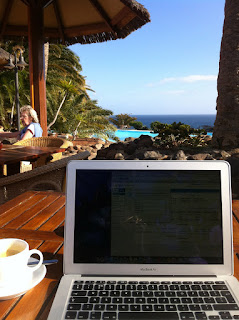 These days I found a lot of hotspots but was told that I had to pay €25 per week. Hmmm… this is a bit steep for an all-inclusive club, while a lot of the even smaller hotels offer Wifi for free. Here one gets drowned in alcohol any time of the day but for internet one has to pay… if you know me a little: I went on strike and rather not do internet. Now I am sitting very poshly upgraded with a MacBook enjoying a really rather spectacular view, but can't read my emails. All I can do is write reviews like this. Ha!
This however is the only minus – the club is constantly striving for sustainability and environmental conciseness, something which I am rather interested in since the Sumatra eco-tourism trip. This year we did a club tour and saw the solar heating, the washhouse and the state of the art kitchen, and we were told about the problems to resource food on an island on which nothing grows. Resourcefulness is a big issue anyway. It is hard to explain to the mainly African workforces that every food that leaves the kitchen and doesn't get eaten has to be skipped, while their families back home hardly know how to get by.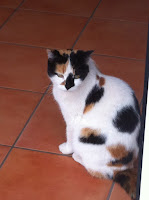 Different from the olden days, now the buffets don't look as lavish anymore - yet still fantastic - but food is getting brought out on demand to be able to serve things the next day as well. Additionally staff is allowed to dine from the buffet after the guests have left. Robinson front end staff was always allowed to dine with guests, so the club's boundaries between staff and guests always were soft, hence opening the buffet to the workforces behind the scenes is a logic extension of their philosophy. Although the club separates waste it mainly gets dumped in one space, due to Spain's environmental conciseness not being as vigilant as the German or English; Robinson Clubs however keep going in order to set an example and to be able to push limits. And of course the club cats are still there and happy.
Those cats supply an endless stream of joy for everybody and are an example how 'out-of-the-box' thinking can enhance the living environment. Now two new unusual recruits do their duty for the club by keeping the number of pigeons at bay: Buzzards! They regularly give a little flight show and although they don't actually catch the pigeons, they look threatening enough to make them keep a distance.
This island shows vividly that tourism is a coin with two sides. Without tourism people here wouldn't have a proper living, but with tourism a whole bucket load of issues arises and I am glad that Robinson Clubs are addressing those.
Another thing that didn't change is the
Aloe Vera Information Centre in Jandia
. I was so glad to hear that they receive quite a bit of custom through ILP, which means that people read my website. Yay! If you are in the area you might want to consider doing an Aloe Vera workshop. Participants will be able to get hold of an almond, olive scrub powder, which mixed with Aloe gel is a fantastically rejuvenating peeling.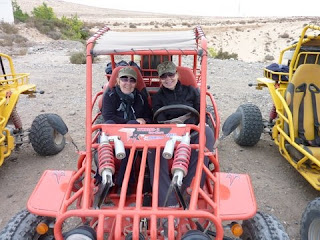 As for the fun part – you may know that every time we are here we do something special – this time it was a buggy tour. We already got worried we might run out of options. We already had done the catamaran, jet-ski, Segway, Lanzarote, and an island tour. So the buggy it was. We could have gone on Quads – four wheeled motorbikes on which the passenger sits behind the driver – but we chose the buggy which basically is a go-cart and in which one sits next to each other.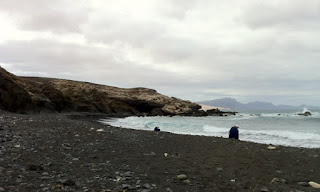 Such a fun! Following the guide like ducklings their mum, we were the last in the row and bit the dust. Criss-crossing the countryside we went to the West coast first, a rugged beachfront where swimming is not possible due to strong undercurrents dragging everything out to see.
Then back to the East side we saw surfers like we never saw them before. This is the surfing Mekka. Every year the windsurfing world championships are held here. Splendid territory!
On our way we stoped at the restaurant Bahia La Pared, which I can highly recommend. The fish is superb and the variety is amazing. This is the nice thing when doing those extra trips, one gets in touch with local people and businesses.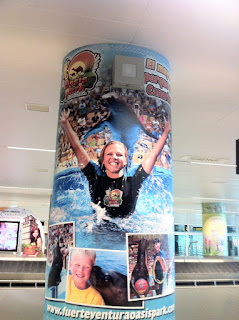 Like the visit to the zoo; I even had the opportunity to meet my cousin who I hadn't seen in 17 years. She is working at the sea lion department and since arrival day I already had seen her on brochures and posters advertising the zoo. We had heard good things about the zoo and had planned a trip anyway. So this was not just a great opportunity to catch some local flair but have a family reunion as well.
A small thing, which however made this trip particularly nice is the impact individuals have in the service business!
The lovely fella who manages the arrival and departure of guests, takes care of the suitcases and has a way with people which makes one feel welcomed and valued, and which is so different from the fake receptionist behaviour one finds all too often the more expensive the hotel is; the bar tender who remembers so well the favourite drink and with a wink attempts to tease the guest into trying something new; and last but not least the cleaner who day after day replaces the welcome flowers. Those were beautifully scattered over the bed, and when she found them 'rescued' in a jar, she kept replacing dead heads. I felt reminded of
Chip Conley's TED talk
in which he describes how important it is to value the efforts of staff. Robinson Clubs surely create an atmosphere in which individual style can thrive. Every time I come to my room those flowers put a smile on my face.
Thank you, guys. You made my days!
---
More pictures
of the trip
on Picasa
Bar Restaurante Bahia La Pared:
La Pared - Pajara, Tel 928 54 90 30, Opening hours 12-22.
Quad/Buggy Tours:
Quad Adventure Excursions, Tel 928866552
Fuerteventura 2008
Fuerte - The Island
Fuerte - Dirary & Club Life
Fuerte - Shopping
(unfortunately La Ola is closed now)
Fuerte - Jet Ski
Fuerte - What else?
Fuerteventura 2009
Travel Diary
Travel Read