Tangkahan is a beautiful jungle area in Sumatra, Indonesia, offering a wonderful eco-holiday experience including elephants, wildlife, hiking, tubing, caves, waterfalls, great food and wonderful people.
RAW Elephant Odyssey, July 2011
Now: South East Asia might sound a little bit scary for the rather inexperienced traveller, I however am sure that almost everybody feels a little bit of a tingle going down the spine, thinking: I wish would just dare going there…
I am one of those people. Up until summer 2011 I only had travelled to the USA, safely accompanied by my husband. Yet, travelling alone to the jungle, facing heat and humidity, creepy-crawlies, and uncertain food and bathroom situations was not really my idea of holidays.
There however was that tingle when I stumbled across that website advertising a 14 day Elephant Odyssey with a prospect of seeing wild Orangutans. One and a half years on, I not only did this beautiful guided tour - and I did see a wild Orangutan mum with her baby in the jungle, and a hornbill, and an eagle flying high up above my lodge why I was lying in my hammock - I went back twice, travelling on my own account. Thus I now feel enabled to give sound information and during the next few posts I will hopefully be able to rope you in. Who knows? One day we may even meet in Tangkahan.
Travel always bears the question: What will it cost me? And the answer is: There is always a trade-off between ease and price.
The easiest way is to book a tour with
RAW Wildlife Encounters
. On their website you find different
tours
and they are always happy to tailor a tour for your needs (please note that the prices on the RAW website are Australian Dollars). As far as I know they are now able to help with flight bookings when you are Australian, if you are travelling from Europe or America you will have to book your own flight, but just ask to see with what they can assist. They expand and tailor their services all the time.
Tours booked with RAW of course have to be more expensive than travelling on your own account. Firstly, you will be paying for their service – and what a service that is – and secondly, the company has a strong corporate responsibility scheme, running sustainability and conservation projects in the area. However, if you are organising everything yourself you might find that prices are not as cheap as one might expect from basic South East Asian jungle lodge living. ... and rightly so, they aren't! Tangkahan is special in many ways.
The History
A good decade ago the villagers were illegal loggers and the area was about to lose the rainforest for good. Bamboo River lodge was the first in the area and the owners raised awareness to convince the villagers to rather find their business in eco-tourism and preserve the rainforest rather than destroying it. The paper company fought back, wrecking the place forcing the couple, an English lady with her Indonesian husband, to go back to England. Their message however had been received, the villagers drove the paper company out, Bamboo River lodge was rebuilt and still exists and others followed. The rainforest has recovered and the tourist business is the tool to give people a living without palm oil, rubber and logging. Travelling to Tangkahan is active conservation.
Accommodation is simple, usually a room with a bed with mosquito net, small table and a chair. Bathrooms have sitting down toilet, some lodges have sinks but at my favourite - Green Lodge - you only will find a tap with a bucket from which you will take the used water with a ladle to flush the toilet.
my bathroom 2011 - in the meantime I got a proper toilet seat, amazing with how little water one can survive quite comfortably


Electricity is still provided through generators during evening until bedtime. Bamboo River lodge was the first to be connected to the power grid just now – we had a big party to celebrate – so there is hope that the others will get power as well during the next year or so. Mobile access is available but not strong enough to load some websites, or to send big emails, so communication is slow.
Apart from the conservation aspect you might ask: 'Why would I want to pay for something so basic at all, why should I visit a place like this?' And I would answer: because you would be sitting on a beautiful restaurant terrace in the middle of amazing foliage, overlooking the river.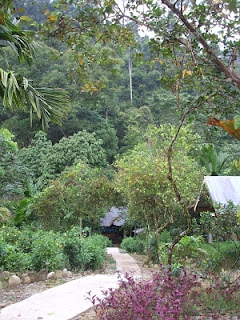 walk to the restaurant
You would be drinking strong Sumatran coffee and if you would get lucky it would be from the area of Aceh, you would eat fantastic food cooked and served by lovely people, you would be faced with challenges just big enough to make you proud when accomplished and after only a short while you would feel like family. I in the meantime have a daughter and two brothers and I am proud that they chose me as their mother and sister.
And I am asking back: Why would one want to not pay a decent salary for all of this? If we travel in Europe, North America or Australia we expect service cost to be high, we accept that people have to make a living and that tipping 12% is the norm. Why would we think that only because the houses in East Asia are basic and chickens are running between them, the common rule has to be that labour is cheap? The season for business only lasts three quarters of a year at its best and ever so often staff does not even earn enough to make a living during this period. Tangkahan is different. The prices are appropriate to give people a decent living and to support community projects like rubbish collection and the rainforest conservation.
A lot needs still to be done! Like in Europe, fees are added to certain services and activities to sustain community projects. The people of Tangkahan are working hard to develop a sustainability concept for the villages and the rainforest, and they need the help and support of their guests. You however will get your moneys worth of holiday: If you allow it to happen, then visiting Tangkahan will be a life changing experience.
Coming up: Some more info about money