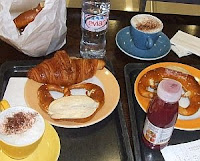 If you have too much money and feel like wanting to waste a bit of it, you should fly via Stuttgart airport and have a breakfast. We paid Euro 26.65 (£22.54) for
2 small luke-warm cappuccinos,
1 small bottle of water
5 buttered Brezels
1 croissant
1 smoothie
The Brezel however, although overpriced, was delicious and we don't regret having taken a few for home as well.
Now we are at the gate already and my computer decided to restart itself without letting me save. Grrr... and no… I am not grumpy, just a bit tired. That's the thing with those early bird flights - ours is at 6:40. Again, we wanted to play it safe and went to the airport hotel the night before and because they had it a bit reduced we decided to go for the name:
Moevenpick has a reputation and it is just across the street from the airport, as opposed
to the one we stayed on our way in
. Turns out: This one is a bit of a weird place, too. Nothing is essentially wrong with it, but it doesn't feel quite right either. The ambiance is not to my liking – oh, well that is fair enough, but they do everything to appear posh and I just find it pompous. And then we had the oddest of rooms so far. They may not do this for twin rooms, but our double had a glass wall to the bathroom, the loo had a frosted glass swing door with a hole instead a knob. I am not squeamish, but a girl sometimes needs a bit of privacy, don't you think? ... and I don't know either why the rail for the towel is IN the shower, but that might be just me...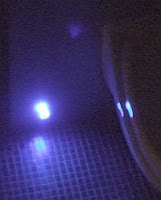 Additionally, it is somewhat interesting to see that apparently it is posh to have blue light in the bathroom. This time it was the loo cubicle that had it.
And of course they are charging a fortune for a small bottle of water which can't be closed again and hence not be taken away.
We however figured that the whole effort of getting to the airport the night before an early flight was not needed. The airport is only a 25 minutes, very straight forward drive from Tuebingen. So next time we may just stay in our lovely
Hotel Domizil
for an additional night.
The flight was pleasant, as I slept through it... and at the airport we got picked up by our dear Paul from
PBTravel
, who since forever is our first choice for airport travel. After an exciting weekend and a short night sleep it is the perfect end to a trip when being chauffeured to the front door.
Then we found the cats happy, the cat sitter still in one piece, and all is good!